Versatile Siding Options for Your Oklahoma City, Norman & Edmond Home
We install a variety of siding materials that will look beautiful while protecting your home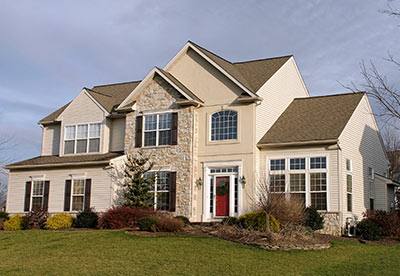 The right siding will bring out the full potential of your home's exterior.
The siding on your home is equally used for protection as well as aesthetic appeal. It is the external shell of your house, therefor you want it to be properly maintained while providing an attractive appearance.
Here at Ridgid Construction, we offer quality siding installations that will stay beautiful and durable for years to come. Our new siding installations are available in the exact color and design specifications you desire.
Get the style and durability you've always wanted with the right siding company. Ridgid Construction's services are available all throughout Oklahoma, including Oklahoma City, Edmond, Norman, and nearby. Click the button below to set up a free on-site estimate.
Different materials have different beneficial qualities
Choosing the right material depends on what you want your home's exterior to look like and the degree of maintenance each material needs. Some materials tend to be lower maintenance than others.
Vinyl Siding - This is probably the most durable siding option for the cost. Vinyl can provide you with the look of real wood without the cost and maintenance. This type of siding delivers excellent performance without the upkeep that other materials need. Vinyl siding also won't peel, chip or rot and never needs to be re-painted.
Fiber Cement Siding - This type of siding can emulate any style of siding, such as cedar shingles, wood and stucco, without any of the drawbacks. It is completely resistant against fire, wind, bugs and wood rot. Fiber cement is also extremely durable and there is little to no maintenance required.
Stucco - Stucco is made of an aggregate, binder and water, creating a dense, solid material that can sculpted for preference. Stucco has been used on the exterior of homes for many years because of its ability to match any home design and its durability. It can be applied in custom colors, providing you with a distinct, unique look for your home.
Steel Siding - Steel is an exceptionally strong material, almost completely resistant to harsh impacts. It also comes in a variety of colors and textures, including wood-grain. The most desirable characteristic of steel siding, however, is its impeccable fire resistance.
Aluminum Siding - Completely resistant to fire damage with an enamel coating that can mimic other siding materials, aluminum siding is the perfect combination of strength and efficiency.
Get a free estimate from a siding contractor you can trust!
All of these materials are available from Ridgid Construction. Our professionals deliver quality craftsmanship for all siding jobs. Whether you need siding replacement new siding installation, we are here to help. Our services are readily available in Edmond, Norman, Oklahoma City, Yukon, Moore, Mustang, Bethany, El Reno, Choctaw, Newcastle, and nearby areas. Please call or contact us online for a free estimate!
Looking for a price? Get a no cost, no obligation free estimate.