Metal Roof Installation in Oklahoma City, Norman, & Nearby
Count on the longevity & durability of our quality metal roofs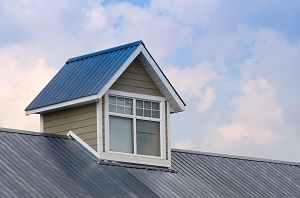 Reap the benefits of all that a metal roof has to offer with Ridgid Construction's expert installation.
Metal roofing has been growing in popularity as a common choice for a roofing material because of its exceptional protection against all elements. Their ability to withstand almost any weather element has made them superior to other roofing materials.
Ridgid Construction specializes in the installation, repair and replacement of metal roofs. By choosing a metal roof, you can save money while conserving energy and being more environmentally friendly. Metal roofs can also give you the look of other types of roofing materials without the disadvantages they often have.
If you live in Oklahoma City, Norman, Edmond, or any town or city nearby, contact us today for a free roofing quote.
Advantages of Metal Roofing:
Metal roofing has unique characteristics that separate it from other roofing materials. Unlike asphalt shingles or wood and slate roofs, metal can withstand most elements, weather conditions, and other impacts for long periods of time.
Wind and hail resistant
Fire resistant
Low maintenance
Lightweight
Superior strength and durability
Versatile style options
Considering a Metal Roof? We Can Help!
When choosing to install a metal roof on your home, you are not only enhancing the appearance, but its overall function and efficiency as well. Metal roofs surpass all other roofing materials in weather resistance, resistance to cracking, shrinking and eroding and their ability to remain energy efficient while protecting your home from severe storms.
Our roof replacement services are available all throughout the Greater OKC area, including Norman, Oklahoma City, Edmond, Yukon, Moore, Mustang, Bethany, El Reno, Choctaw, Newcastle, and nearby!
Looking for a price? Get a no cost, no obligation free estimate.