Shingle Roofing Installation in Oklahoma City, Norman, Edmond, & Nearby
We repair, replace and install shingle roofs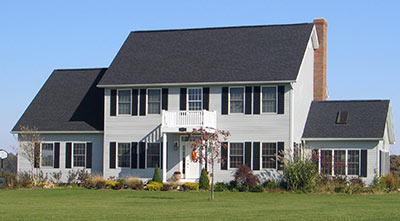 Ridgid Construction can install a beautiful and durable roof on your home.
There are many different types of roof shingles, including asphalt three-tab shingles and architectural shingles, wood shingles and slate shingles. Every roofing material has unique properties with different advantages and disadvantages depending on what you want for your home.
When considering all your options, know that Ridgid Construction can assist you with any questions and concerns you may have when replacing your roof. We have been in the roofing industry for several years and can accurately explain the different benefits of each material to you.
If you live in Oklahoma City, Norman, Edmond, or any town or city nearby and would like to hear about all of our roofing options here at Ridgid Construction, contact us today. We look forward to each new project we begin and can ensure quality craftsmanship and service.
Before and After
Before

After

This home got a facelift by replacing the black 3-tab shingles with GAF Timberline HD Brown Shingles.

Before

After

This old roof had damaged shingles. The homeowner contacted Ridgid Construction to conduct a full inspection and estimate. When the work was approved we began the replacement. What a difference a new roof can make! Damaged shingles were replaced with Certainteed Landmark Max Def in Burnt Sienna giving this home a refreshing new look.

Before

After

We re-roofed this home with GAF Timberline 30 shingles in Weatheredwood. Gutters were replaced and interior damage repaired as well.

Before

After

This homeowner sustained hail damage to the whole house. Besides the roof; the siding, gutters, and garage door were also damaged. We sent out a specialist to do a full inspection and write up an estimate for the homeowner. Our experienced crew then came out to do the restoration. We even restored the paint to where it looked better than new! Another happy customer!

Before

After

Certainteed Landmark Max Def Weatherwood Shingle and Musket Brown Seamless Gutter. The New gutter color really makes a clean border for that new roofing. Great choice to match the roofing as opposed to matching the fascia as it was prior to construction!! Looks really nice!

Before

After

This homeowner chose a beautiful Certainteed Max Def Georgetown Gray, and it looks Beautiful! Great choice!!

Before

After

Tear off and re-roof using GAF Timberline HD shingles in Weatheredwood, GAF's most popular color because of it's beauty and versatility.

Ridgid also replaced and painted their garage door, painted the gables and trim, replaced windows and installed new seamless aluminum gutters. Looks like a new home!

Before

After

This beautiful home got a makeover with new, lifetime warranty materials. Many customers do not know they have options when it comes to repairing their property when an insurance claim is involved! The damaged roof was wood shake, which was removed and replaced with GAF SG Camelot II in Weatheredwood (color). While shake shingles offer a unique look, they are high maintenance, weather easily, and can even pose a fire hazard as they weather.

The roof was completely decked with plywood, ice & water shield applied in valleys per code, all flashings were replaced and 2 power vents were added. It was re-roofed with top-of-the-line architectural shingles with a lifetime warranty. We also replace all gutters/downspouts and the garage door.

Before

After

Complete re-roof with GAF Timberline shingles - the slight color change chosen by the owners gave this home a fresh new look.
Asphalt shingles are an affordable roofing option
Asphalt roof shingles are affordable, durable and can be used to achieve many different looks. They are also easy to install, however, they require regular maintenance. Things like moss and debris can collect on the shingles, creating an unappealing look for your home. Asphalt shingles are also available in two different styles, three-tab shingles and architectural shingles.
Three-tab: Very affordable, variety of colors, easy installation.
Architectural: More dimension, different design options, added durability.
Slate Roofing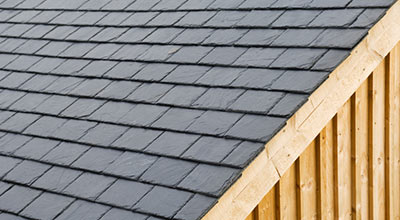 Slate roofs have unmatched durability and strength.
Out of all the roofing materials out there, slate seems to surpass almost all with its strength and aesthetic appeal. It has been a popular roofing choice for over a century because of its ability to withstand tough weather elements.
We can install beautiful, weather resistant slate roofing on your Oklahoma home. Slate will add a dramatic appearance to your home while protecting it in the toughest of elements and weather conditions. When installing this type of roof on your home, you will inherit all of the beneficial qualities a tough, durable roofing material has to offer.
Wood Shingles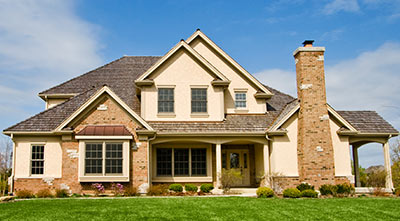 Get the long-lasting beauty of natural wood shingles!
Wood is also a popular roofing material for its design appeal along with its valued strength. The organic, raw beauty of wood shingles can enhance the natural appeal of any home, tying it to the beautiful outdoors. Wood roofs offer classic elegance with the durability and strength you'd want when protecting your home.
Ridgid Construction also installs wood shingles for homes in Oklahoma and can also repair and replace damaged wood shingles on existing roofs.
Wood shingles are a great option for homeowners who desire the look and feel of real wood matched with lasting performance.
Call us for the right roofing material for your home
If you live in Yukon, Moore, Mustang, Bethany, El Reno, Choctaw, Newcastle, or any area nearby, call us today for a free roof replacement estimate. The roofers at Ridgid Construction are happy to help you with any questions about different materials you may have.
Looking for a price? Get a no cost, no obligation free estimate.