Emergency & Disaster Roof Repair in Oklahoma City, Norman, Edmond, & Nearby
Quick, dependable roof repairs for wind, hail and storm damage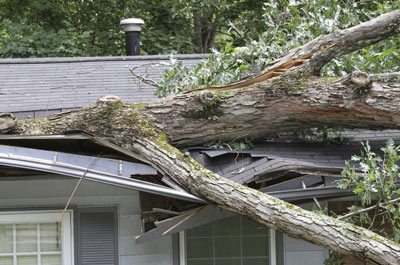 When a roof is compromised, water can get inside the home. Emergency repairs can prevent further damage.
When disaster strikes and damages your home, you need an immediate response. If heavy rains, high-force winds or hail have damaged your roof, Ridgid Construction is your local contractor to call for dependable roof repair.
To help prevent further damage to your home, contact us today for quick roof repairs or an emergency tarp. We service all of Greater OKC, including Oklahoma City, Norman, Edmond, and the surrounding areas.
Call 1-844-385-8424 or click below to contact us!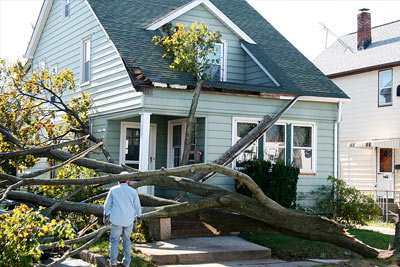 This roof was temporary patched and permanently repaired after a tree limb fell on the home.
Roofing emergencies that we handle
Roof leaks and damage caused by delayed maintenance and/or normal wear and tear
Damage from fallen tree limbs
Torn off shingles and/or roof decking from high winds
Damage from ice dams
Issues caused by improper roof installation
After providing immediate repairs or an emergency tarp, we can assess any additional damage and recommend a more permanent roof repair solution.
Dos and don'ts to follow in a disaster
Are you wondering what you should do when you're faced with unexpected roof damage? Follow these tips for safe, proper emergency roof repair:
Don't climb up on your roof: A damaged roof is a dangerous environment, and you should let a professional be the first to check it out.
Cover the roof's interior: Using plastic sheeting will protect the interior of your home and help prevent leaks.
Perform a visual roof inspection: From the ground, take a visual inspection of your roof to note debris and possible damage.
Let our experts fix your roof to protect your home
We know that you depend on your roof to protect your home and everything and everyone inside of it. That's why you need the help of a roofing contractor you can trust when Mother Nature wreaks havoc on your home. If a tree fell on your roof or hail or high winds ripped it apart, Ridgid Construction is ready to help.
From roof repair to replacement, we offer complete roofing services in Norman, Oklahoma City, Edmond, and all of Greater OKC. Call us today to request your on-site consultation and estimate!
Looking for a price? Get a no cost, no obligation free estimate.