Seamless Aluminum Gutter Installation in Oklahoma City, Norman, & Nearby OK
Aluminum gutters offer the perfect balance of affordability and performance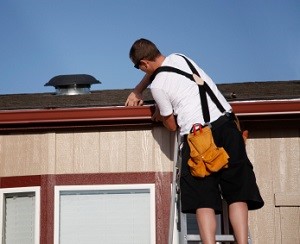 Seamless gutters provide a clean finished appearance while ensuring your home is protected from water damage.
If you're looking for new gutters for your home, you know how many options are available. Materials such as aluminum, steel, copper, and wood are all choices, along with various brands, styles, and attachments such as gutter guards.
Aluminum gutters are the most popular option on the market due to their blend of affordability, style, and durability. Ridgid Construction installs quality seamless aluminum gutters that will give you the look you want for your home and the performance you need. Call us today at 1-844-385-8424 or click below to get started with a free installation estimate in Oklahoma City, Norman, Edmond, and the nearby areas!
Before and After
Before

After

This gorgeous home in Norman needed a better system to direct water away from the home. Gutters and dowsnspouts were replaced with color-coordinated seamless aluminum. All in a day's work!

Before

After

Seamless aluminum gutters and downspouts were replaced and painted to match their trim. At the homeowner's request, we also added gutters around the home to help keep water away from the foundation. This resident can rest easy knowing they have Ridgid Construction backing them up!
The benefits of seamless aluminum gutters
There are a number of reasons why many homeowners choose seamless aluminum gutters over other types of gutters. Consider the following advantages:
Seamless lengths: Seamless gutters are custom cut to the length required, eliminating the need for seams that weaken the gutter and can lead to leaks.
Durable, factory-applied finish: Aluminum gutters come with a factory-applied finish that is available in a wide variety of colors to match your home and/or roof. The finish won't wear off or require maintenance unless you have to touch up scratched areas. If you want something truly unique, they're easily painted any color.
No rust or corrosion: Aluminum won't rust or corrode, making it truly a no-maintenance material.
Speedy installation: Our crews can usually complete a seamless gutter installation on an average house in a single day, as long as the fascia boards along the eaves are in good condition.
Affordability: Seamless aluminum gutters cost less than other types of gutters while providing equal performance and a great finished appearance.
Upgrade your home with seamless aluminum gutters today
If you're interested in installing new gutters for your home, seamless aluminum gutters from Ridgid Construction are the ideal choice. We can inspect your home and recommend the right style of gutter for your needs to ensure you get the right look and function.
Call us today at 1-844-385-8424 or contact us online to get started on your gutter installation project. We offer free estimates on all our work in Oklahoma City, Norman, Edmond, Moore, Yukon, Bethany, Mustang, Choctaw, Newcastle, El Reno, and the surrounding areas.
Looking for a price? Get a no cost, no obligation free estimate.