Commercial Siding Installation in Greater OKC
We have complete solutions for all types of housing and commercial properties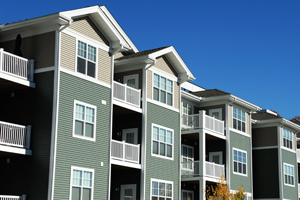 Keep your property looking its best with our commercial siding services.
If you own or manage a commercial building, apartment complex, or any other property, ensuring the building has the right curb appeal is essential. At Ridgid Construction, we provide complete commercial siding services to help you make the right first impression with your property.
We work with top materials from industry leading manufacturers, ensuring that you get a quality solution for your property. Call us today at 1-844-886-5263 or click below! We offer free estimates on all our siding work in Oklahoma City, Norman, Edmond and the nearby areas.
Our commercial siding solutions
At Ridgid Construction, we offer a number of quality siding materials:
Vinyl siding: Vinyl siding is probably the most cost-efficient material available, providing good durability with extremely low maintenance. Vinyl comes in a wide variety of colors and styles, and is very easy to clean.
Fiber cement siding: Fiber cement siding provides excellent weather and fire resistance, making it a popular choice. Fiber cement is low maintenance and can be painted any color you desire.
Metal siding: Metal siding is one of the most durable materials available, providing very good weather and fire resistance. Metal siding can also be painted a variety of colors.
EIFS siding: Exterior Insulation and Finish Systems, also known as EIFS or synthetic stucco, is a multi-layered finish that provides an insulated, water resistent siding in one step.
We install siding on all types of properties, including:
Apartment buildings
Condo complexes and townhomes
Office buildings
Multi-family housing
Stores, restaurants, and other commercial properties
We can help you with all your siding needs in OK
If you need siding for your commercial property, Ridgid Construction are the local experts you need. Call us today at 1-844-886-5263 or contact us online to get a free estimate on siding installation for your property. We offer all our services in Oklahoma City, Norman, Edmond, Moore, Yukon, Bethany, Mustang, Choctaw, Newcastle, El Reno and throughout the surrounding areas.
Looking for a price? Get a no cost, no obligation free estimate.