Commercial Roofing, Siding & Gutter Services in Greater OKC
Repairs & replacements for commercial, industrial and multi-family buildings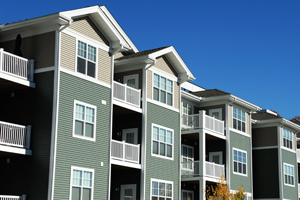 Multi-family housing. When serious roof leaks or storm damage occurs, we work quickly to keep tenants safe.
Ridgid Construction is highly-experienced in installing roofing, siding and gutters for commercial, industrial and multi-family properties and new constructions. We have installed thousands of square feet of flat and steep-slope roofing in Greater OKC. Our portfolio of projects includes apartment complexes, condos, churches, warehouses and more.
Our commercial roofing specialists have the training and experience to know what products and materials will work best for your property.
Call us at 1-844-886-5263 or click below to request a consultation and estimate on repairing or replacing your building's roof, gutters or siding.
Our Commercial Service Options
Products
Founded in 1906, Mule-Hide is dedicated to designing, manufacturing and marketing top quality roofing products and systems.
Mule-Hide Single-Ply Roofing Systems
With durability and flexibility in mind, Mule-Hide's Single Ply Systems are designed to be strong and withstand all types of weather conditions.
PVC
Lightweight
Code compliant
Long life
Flexible
Energy efficient, reflecting 78% of the sun's rays
TPO
Easily repairable
Thick top ply
Strength and durability
Long life
Energy efficient, reflecting 78% of the sun's rays
EPDM
Flexibility
Strength and durability
Long life
Meets CA Title 24, CRRC rated & ENERGY STAR efficient
What to expect when you work with us
At Ridgid Construction, we always provide property owners and managers with the resources necessary to improve their properties with as little interruption as possible. We have a dedicated team to handle all aspects of a commercial or multi-family roofing project, including project management, production and estimating. When you hire us as your commercial contractor, you can also expect:
Courteous professional service: At Ridgid Construction, we recognize that your commercial property is a valued asset that plays a major role in your business success. Our pledge is to always respond quickly to your needs and to deliver the best value and highest quality every time.
Well-trained workers: We recruit conscientious, dedicated team members, train them well and make sure they have the skills to do top-quality work. Whether you need help with your roof, gutters or siding, we have the know-how to serve your needs.
Excellent equipment: We are constantly updating our tools, trucks and other equipment to ensure that every crew can work safely, efficiently and to top industry standards.
Access to the best materials: We deal with major building material manufacturers to make sure we have access to the best roofing, siding and gutter products at competitive prices.
If you are looking for a Greater OKC commercial contractor, contact Ridgid Construction today to make sure you get the best value in commercial roofing, siding and gutter services.
Looking for a price? Get a no cost, no obligation free estimate.